Growing up in village in Nepal, Dhan Tamang had little exposure to the craft behind a good cup of coffee. In Nepal, coffee remains an expensive and luxury good so it wasn't until Dhan journeyed abroad to Kuwait that he experience coffee properly for the first time.
In fact, he recalls with a humorous tone that before, he used to drink white hot chocolate mochas! Dhan remembers how astounded he was to learn that coffee came from machines and he was immediately intrigued by the journey of bean to cup. Therefore, he embarked on an intensive learning process, consuming all the coffee knowledge he could in a short 2 month period. Since then, he explains that he loves the process and never gets tired of more learning. 
Dhan faced some challenges on his move to the UK; moreover, he began to find himself hungry for more knowledge and experience: "I always want more, its normal human nature". However, he sees challenges that come his way as opportunities, and since his first job as a barista, he has continuously relished this enjoyment. Now, his favourite part of the job is
"meeting a lot of different people, travelling the world and always learning something new". 
Since then, Dhan has excelled in the field of Latte Art and his 6 successive victories in the UK Latte Art championship are a testament to this. These competitions are very high pressure and he recalled the adrenaline felt when only given 10 minutes to demonstrate years of accumulated skill.
"One of the key elements to win the competition is handling the pressure". 
Dhan explained that at that moment he is focussing only on himself: "you have to feel like you're the best". He elaborated that confidence and preparation are both equally key. His approach is to ground himself in the reason he is there, for him that is his past journey into the coffee industry. Dhan believes that the title means little and it shouldn't define your career and who is the best barista in the room. Ultimately, it comes down to who copes best with the competition conditions- evidently, Dhan is successful in this endeavour. Perhaps the reason he is able to remain so composed is due to his visualisation of success. Dhan explained that the simple definition of success for him is happiness. If you are truly happy then you are truly successful. His winning mentality is routed in this mindset and his vision remains humble: Dhan views himself to this day as a barista above any other title. 
"I am proud to be a barista".
The highlight of his career to date has to be his first win in 2013. Dhan explained that whilst this does not define him, it acted as a catalyst for attention within the industry. "What people saw of me changed, probably because nobody expected me to win". Suddenly, in one day his reputation had changed and this came with a plethora of new opportunities. "Those 10 minutes define everything" and even though Dhan recalls "I didn't change", his career from that point was transformed. 
As a result of these successes, Dhan utilised his new platform and notoriety to focus on several new ventures. He brought out a book Coffee Art that can be used to self-learn Latte Art at home; it includes 9 different techniques and 60 unique designs. The inspiration behind this was that during his early days of coffee Dhan was eager to learn but felt restricted by the cost of coffee classes. He vowed to himself that one day he would become a champion and share his knowledge as best he could.
"I want to share my experience and knowledge with everyone as much as a I can- that was my goal". 
Now Dhan runs several coffee shops around the UK (Coffee Lab) and he emphasises that the title of barista can mean many things including author, businessman and roaster. DT coffee school and roastery offers students tailored learning experiences and sells home roasted speciality coffee. 2020 has been a challenging year and 8 of his coffee shops have had to close. However, Dhan maintains an infectiously positive outlook: "this is just part of life, I'm not afraid".
Dhan's vision for the future is imaginative and ambitious. He hopes to establish more shops, grow the roastery, win more competitions and most importantly remain happy. Away from coffee he enjoys sports and spending time with his young son. Dhan hopes to continue to share his passion for coffee and spread the message that in the current times, coffee can unite a community more than ever.
"The world is suffering, the industry is suffering but we have to keep going and stay positive". 
These closing words encapsulate the positive vision that Dhan exudes and uses to inspire members of the coffee community all over the world.  
Other stories you may like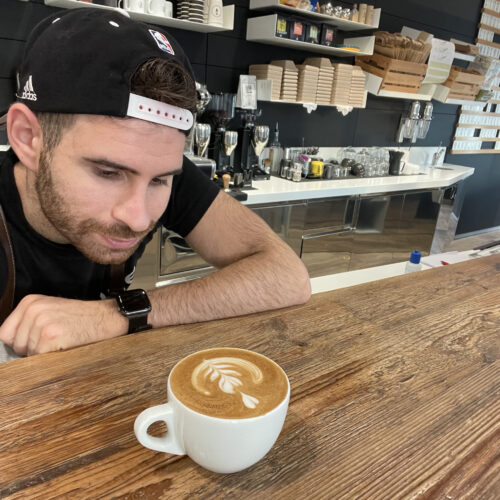 Luca Romito
This coffee story is about Luca Romito, a 29-year-old barista from a small town at the foot of the Euganean Hills in Veneto, Italy, who works as a barista in…
From the beginning, we set out to create a platform meant to have a global social impact that can help to transform the professional image of your average barista while also improving their social value and offer them support in maximizing their contribution to the coffee industry. We empower coffee people behind the cup and give them more voice.
Buy a T-shirt, and help a barista. We donate our profit to help baristas in need.