Design to help the coffee community
Coffee Wristbands is a fundraising program that brings coffee artists together for collaborations on projects that give back to the coffee community.
Everything You Need to Know to Prepare the Coffee Wristbands Design
This is a charity program that we welcome all designers to join us. However, to give a voice to the coffee people in the coffee community, all designs must be coffee related. To become a volunteer designer, you are willing to contribute your design to I'M NOT A BARISTA and give us the full right to use it for charity purposes. We will cover the full production cost to let your design connect thousand of coffee lovers around the world, all funds raised from your design will be used to help coffee people in need.
The success of our fundraising heavily relies on the quality of your design, and the quality of your design relies on the print files you create and your understanding of speciality coffee. The better the quality of your print files and design story, the better the overall performance of the fundraising. However, we can not guarantee your design will be accepted.
We expect you to be a design expert or at least have some level of design experience. We hope you understand the design requirement listed here.
Acceptable content: Original design only, and no blatant promotion for any coffee brand or product. 
Your work should have a complete story explaining your design, inspiration, values, and meanings.
Accept file type: PDF, AI, ID, or PNG (>300dip, or Vectors)
The print area of the wristband, dimensions 190mm x 25mm; make sure to middle align the main design content 170x25mm because the square logo label will cover 15x25mm on each side.
Color profile: CMYK, or sRGB IEC61966-2.1
Detail: Remember it is a small wristband, do not make over-complicated details. Design smaller than 1mm will be hard to see.
Print material: Your accepted design will be printed on elastic fabric stripes.
You can insert your signature if you want 🙂 We recommend you position your signature on the side.
Your main design here 170x25mm
Congratulations, if you carefully follow our request and are happy with your final design. Please send your wristband design to info@notabarista.org; make sure let us know by filling out this quick application form.
The first round of wristband design evaluation ends on February 15th, 2023.
If your design is accepted,
we will list you as one of the wristband designers on our website and give you full credit,
we will promote you and your design with our charity partners,
your design will be printed and shared by thousands of people worldwide,
we will send 10 wristbands of your design so that you can share your work with your friends and family,
Meet the Designers
Say hello to these beautiful people from the I'M NOT A BARISTA community
Do you want to design to make an impact?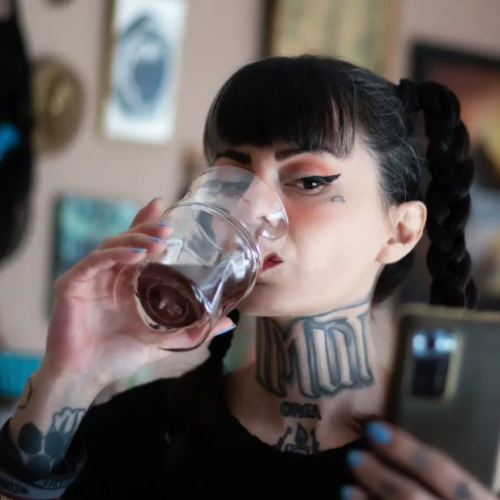 Nükhet Çubukçular
Turkish
Power of Connection, 2021
Inspired by one of the greatest artists of all time, Michelangelo, Power of Connection takes you on a coffee trip – from soil to cup. Power of Connection is Çubukçular's vision come to life as she craved the opportunity to create coffee-inspired art and design. Rich in colors of flaming crimson, red wine, marigold, and vibrant coffee, Çubukçular walks you through the terrain of mountain-grown coffee beans and continues into the foliage and fruit-bearing coffee plants.
The core of the wristband illustrates two hands coming together encased in an AeroPress, symbolizing the hands of those involved in your morning cup of coffee. The AeroPress was one of Çubukçular's first brewing equipment and has "given me power for years". The journey ends with a perfectly brewed and smooth roast, surrounded by scattered coffee beans. With Power of Connection, barista and designer Nükhet Çubukçular, aspires to support other baristas in the coffee community because "that's what coffee does, it brings us together".
I'M NOT A BARISTA, 2022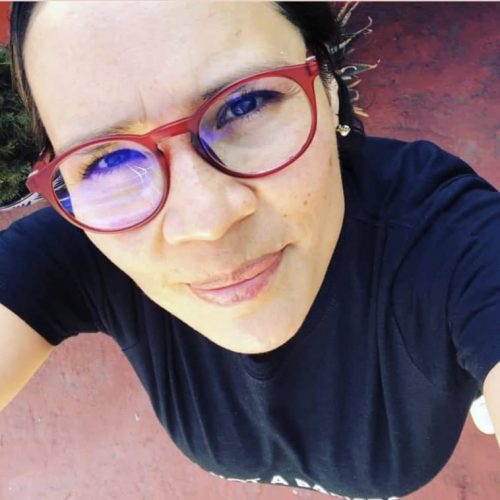 Guadalupe Delgadillo
Mexican
Tonatiuh love, 2020
About the designer:
Delgadillo is a Mexican graphic designer and entrepreneur with a passion for specialty coffee.
About the design:
"The idea of the illustration was to look for things related to coffee. We know that coffee as a natural thing, as a plant, needs the basic elements such as sun and water. Other important elements in other cultures include wind and fire that are also essential and have their own representation in each culture".
These are gods to Aztec culture, and Tonatiuh (pronounced Toh-nah-tee-uh and meaning something like "He who goes forth shining") was the name of the Aztec sun god, and he was the patron of all Aztec warriors, especially of the important jaguar and eagle warrior orders.
"We have the sun and the name and also how they represented the culture. This is where I went to look for inspiration for my design related to coffee: to illustrate how coffee comes to life. In the design, the coffee is in the center and it is surrounded by the Tonatiuh."
Design Inspiration: Tonatiuh - Aztec sun god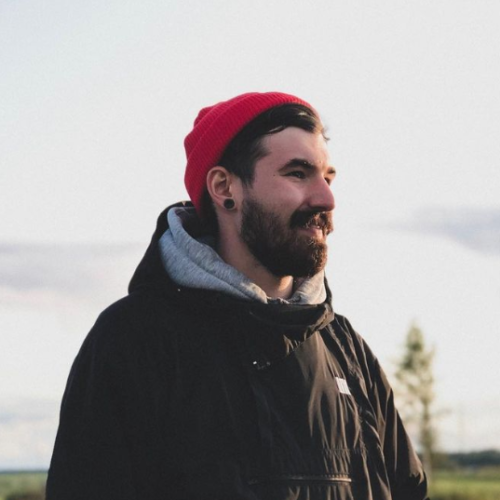 Timofey Logachev
Russian
WITH LOVE FROM RUSSIA, 2021
Just as baristas show expressions in their cups, artists show expressions through their work. The coffee scene in Russia inspires this coffee wristband. Just like Mount Elbrus, mountains with arms open wide welcome you to the growing coffee community. The birches are a mark of distinction, and the arms with tattoos convey the Russian baristas' love for their artistic tattoos as they try to change the narrative behind tattoos from prison to art form and self-expression. The wristband proudly announces "WITH LOVE FROM RUSSIA" as Timofey hopes to show the world the love that Russians have.
Timofey Logachev designed this coffee wristband as a donation to baristas worldwide, as part of the Coffee Wristbands Charity Program by I'M NOT A BARISTA.
I'M NOT A BARISTA 2022.
Olgun Kaşıkçı
Turkey
I remember that i drew since i know myself. I grew up with Disney animations and B movies and suddenly it became a passion in me so i started to apply this concept into my drawings. I stand on the concept of outsided beings and gothic and punk aspects. I decided to go to fine arts institution of Yeditepe and graduated from Graphic Arts and Plastic Arts division and it's gives me the edge for improving myself in illustrations. In my regular life i'm an Art Director and Freelance Illustrator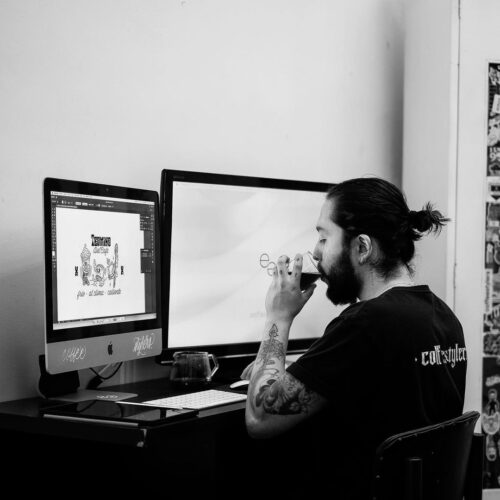 The illustrator behind the wrisrband:
Duvas (IG @freeloohor) also known as freelooh is the co-founder of coffeestylers, he is a publicist by profession and a barista by vocation, his art is always focused on the vision of specialty coffee accompanied by the wealth of his country Colombia. His projects are born from the simple, from the unique, from the different. Today he has collaborated with more than 50 specialty coffee companies bringing the art of good coffee to various parts of the world.
Coffeestylers
Was born with the objective of connecting the specialty coffee industry with the creative industry, we have a coffee spot in Bogota, the capital of Colombia and within it we have our creative studio where we offer branding, illustration & packaging services for different projects of coffee in the world. Today, 5 years after opening, we have created a community that sees coffee as a way of life. We are part of the new wave of coffee in Colombia, highlighting all the traceability and sustainability of each coffee, connecting the countryside with the city and the city with the countryside, and highlighting the creative concepts of each edition and each coffee.
.For those who have reached this point, we can only invite you to our coffee and studio to show you the wealth of all of Colombia 🇨🇴
We are B Coffee Project
A project that was born a year and a half ago by two coffee lovers (from Colombia - Yailin Rubiano and Johan Quintero - Venezuela) who seek to attract people to the world of specialty coffees. For now, we want to do it with merchandising alluding to this world, but with slightly original designs. the normal. Now we have t-shirts and stickers, located in Uruguay where we also want to promote coffee culture and take our passion and love for coffee to any corner of the world.We believe in coffee.
The design submitted for the Coffee wristband consists of details that are pertaining to Indian coffee and Indian textile. Most of the Indian textiles which are scattered in different states, regardless of their history, decorate them with different motifs and recurring patterns. In this illustration you can find such recurring patterns and a flow in the design.
The first element in the illustration replicates a decorative border commonly found in Indian textile. To connect it to coffee I have used coffee beans as part of the design.
The second element replicates a motif which again is an integral part of Indian design which is linked to natural, cultural, religious and socio-economic factors prevailing in Indian society. Considering these factors I have illustrated a coffee shrub like a motif. Usually motifs are of a lotus, a peacock or a mango but this one is a coffee plant.
The third element, also the center part of the illustration, is very important to this design. Coffee in India has existed since the 1600s and we have our very own coffee brewer which is the Indian Filter coffee or South Indian Filter Coffee. There are many other names to this filter in India. Coffee is cultivated in South India and I belong to South India so I have grown up drinking coffee made in the filter.
A Thick concoction of Coffee is brewed using the percolation method and the coffee is consumed with piping hot milk and sugar/jaggery. There is a unique and significant way of frothing this filter coffee i.e. by pouring coffee from one tumbler to another. I have tried to depict this in my illustration.
The element found in the very center of the illustration is the Coffee filter and two hands frothing the coffee. The hands are decorated with Ornaments and vibrant red. It is to replicate the hands of Indian Classical dancers who also decorate their palms with vibrant red dye.
This illustration is amalgamation of Indian Culture, Indian Textiles and Indian Coffee.
I'm Shelton from Indonesia, a homebrewer who enjoys his brew and coffee.
This is my submission for I'M NOT A BARISTA Wristband
My design represents the spirit from Indonesia. i choose the color red and white which i took from Indonesia flag colour. the wings itself tells the freedom while we ( homebrewers ) enjoy our own technique, skills, brewing whatever the coffee at home. to make it more 'Indonesia' , the wings also represent the 'Garuda' which has 17 feathers on each wings. it means Indonesia Independence date on 17 on August.
the mountains means like 'Sabang sampai Merauke' philosophy, meaning Indonesia are connected by islands and mountains, even though we have different culture in Indonesia, we're still together as one.
the dripper like illustration represent the most used tool for homebrewers in Indonesia.
short story, i met a lot of homebrewers in Indonesia that came from different cities and different culture, but somehow i made a lot of friends especially homebrewers and now we're connected and getting along in coffee.
i hope my design can help the charity and connects all people around the world through coffee.