Tyler Botts is a master of all trades; not only is he one talented Barista, but he's also a ceramicist and digital designer. So how did he get to this point? It all started with one Barista.
Tyler's coffee journey started in his freshman year of college at the University of Florida. He had been working various service industry jobs, from ice cream shops to sushi restaurants, but hadn't found anything that stuck. This all changed the moment he stepped into his local specialty coffee shop.
"I visited a specialty coffee shop in my town called Knowhere Coffee," he recalls, "I ordered a cappuccino and was then asked which coffee I wanted it made with." Before this moment, Tyler had never given a coffee's origin a thought. Most of us have been here before, thinking that lattes, cappuccinos, and mochas are the only varieties of coffee. Tyler had an eye-opening – and ultimately life-changing – a conversation with the Barista which changed his perspective on coffee forever. That conversation opened up Tyler's eyes to the amazing world of specialty coffee and gave him a new sense of direction in life. He began pursuing cafe jobs to learn vital Barista skills and to indulge in his newfound love of specialty coffee.
Moments like this prove how important it is to give Baristas a voice. A single conversation altered Tyler's whole life, and now he gets to share his knowledge and his passion with the world too.
The new discoveries didn't stop there. After successfully securing a job as a Barista, Tyler reveals another equally eye-opening coffee experience he had; trying his first pour-over.
"The coffee was bursting with a bright and punchy blueberry note that I just couldn't wrap my mind around,"
he says, his enthusiasm evident, "Until then I didn't think coffee could taste just like a fruit." Tyler was an instant convert, and admits that pour-over is still his favourite brewing method to this day. He specifies the Cafec Flower dripper and the Kalita Sandstone ceramic dripper as his go-to drippers for a delicious, complex, and consistent cup — the latter of which conveniently combines two of Tyler's passions: ceramics and quality coffee.
Tyler worked his way up to the position of Lead Barista at Karma Cream, a vegan coffee and ice cream shop in Gainesville, Florida. Now it's his responsibility to train new Baristas and introduce them to the world of specialty coffee, as well as having the responsibilities of working on new drink specials and quality controlling recipes. On top of that, Tyler is a digital designer for the marketing company Feathr, and he is a talented ceramicist, making hand-thrown and glazed ceramic pieces under the artist name 'Tuff'. As 'Tuff', he visits his community pottery studio three times a week for several hours to make and glaze pieces, and even has his own shelf at Karma Cream where he can sell his cups. With all of this on top of 40-hour weeks at the coffee shop, how does Tyler manage to stay ahead of everything?
Tyler admits that the responsibility he holds can be the most challenging aspect of his career, "being that rock that everyone can count on not budging." He explains how there's the constant expectation to be the smiling, energetic, and welcoming face behind the register, even when working long, tiring, antisocial hours. "It's a constant battle challenging hectic work life at a cafe while ensuring your customers are getting the welcoming and heartfelt experience they deserve."
Tyler clearly cares a lot about the customers at Karma Cream, and while it can be the most challenging aspect of his work, he also cites his interactions with the customer as his favourite part of his day.
"It's really rewarding and exciting opening people's eyes to the complex world of coffee,"
Tyler tells us, undoubtedly excited to pass on his passion and his knowledge of specialty coffee, knowing the power an interaction like this can have.
So, how does Tyler determine success? His answer is a humble one;
"I don't think a job title or a simple salary number will ever equate to 'success'. I think success is knowing you are in a place that you, at one point, looked up to and glorified. You're comfortable with your position and a role change or a new responsibility isn't even on your mind,"
he elaborates, "If you're content with your role or place in society and are comfortable, I think you have just as much success as anyone." 
Tyler singles out his greatest achievement to date as the guest roaster program he set up at Karma Cream. The program showcases two coffees from a roaster from out of the area, giving locals the chance to try new roasters and new coffee. Making connections with people is clearly the lifeblood behind Tyler's passion for coffee and motivation to keep working everyday. He reveals that as a result of the program, he's had the opportunity to meet so many incredible people. Understandably, the pandemic was a real struggle for Tyler, hindering his desire to make the coffee shop a welcoming and uplifting environment for everyone who passes through the doors. Of course, he hasn't let it dampen his spirits too much, "We're still trying to brighten your day, at least a little, hopefully, a lot!"
What does the future hold for Tyler? He admits his future plans don't reside at Karma Cream, but further afield, in the roasting and sourcing side of coffee. His dream is to land a roaster tech gig one day, and with his work ethic, we're sure he will soon.
In his spare time between brewing coffee, digital designing, and making ceramics, Tyler enjoys cycling – "nothing makes me happier than a full evening on the trail" – as well as hiking and reading. If you want to meet Tyler, you can find him at Karma Cream and you can follow him over at @tyler.bottts.
Other stories you may like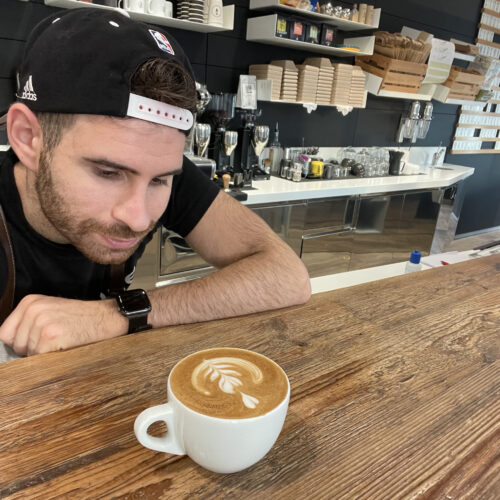 Luca Romito
This coffee story is about Luca Romito, a 29-year-old barista from a small town at the foot of the Euganean Hills in Veneto, Italy, who works as a barista in…
From the beginning, we set out to create a platform meant to have a global social impact that can help to transform the professional image of your average barista while also improving their social value and offer them support in maximizing their contribution to the coffee industry. We empower coffee people behind the cup and give them more voice.
Buy a T-shirt, and help a barista. We donate our profit to help baristas in need.