"First of all, my English is not great," smiles Arsenij Kuznetsov. The humility coming from the latest World Coffee Roasting Champion is astounding.
Hailing from the city of Novosibirsk in central Siberia, Arsenij began his coffee journey at the age of 16 in a little American-owned coffee shop called "Traveller's Coffee." The coffee scene in Russia 15 years ago was very different back then, where people mostly drank tea and few drank coffee, let alone specialty coffee.
For two years, Arsenij assisted the baristas in their duties. "I was basically a servant," he recalled. "I would bring them water, juice, whatever they wanted, clean tables." But after the first two years, Arsenij put on the apron of a barista and never looked back. "It was a fantastic time," Arsenij said. "I loved working with espresso, latte art, and building a relationship with my colleagues and my customers."
Arsenij then spent the next three years as a barista, moving up the ranks to become the chief barista of his coffee shop. However, as a head barista, Arsenij had the responsibility for training all new staff as well as assisting with opening any new coffee shops. This would lead to over 100 coffee shops set up all over Russia during his 15 years of his coffee career. Arsenij was very much self-taught, along with a few resources that he had at his disposal. The internet was not that prevalent back then, and being in the middle of central Siberia, Arsenij had even less access to a lot of information that us coffee lovers would enjoy and take for granted now.
Teaching and training baristas was a difficult process a decade ago in Russia. "We had this big, thick, barista book that we learnt from," Arsenij indicated with his thumb and forefinger, outlining what would have been quite a textbook. "That, and sometimes, we would get consultants from America who would come and teach us. We did not have enough people in Russia who had experience with coffee. There was no Internet and to think that there were books to read to learn about coffee – that is a luxury – that sounds crazy!"
So every single time they had a new employee, it was as much a process of teaching as it was learning for Arsenij who was in charge of training each new person. "When I trained baristas, I would always have about three to five new baristas with me. It was an everyday process to teach them about coffee. We didn't have enough people with experience in Russia for them to learn from. I did a lot of it myself," says Arsenij. Everything from espresso, latte art, milk, espresso machines, and cleaning the machines became a well-thought and well-practiced routine for him. The first 7 years of progress was tough for Arsenij, as he said, "it was so difficult and progress was minimal." But that repetition and practice would play an incredibly important role in the next chapter of his coffee career – competitions.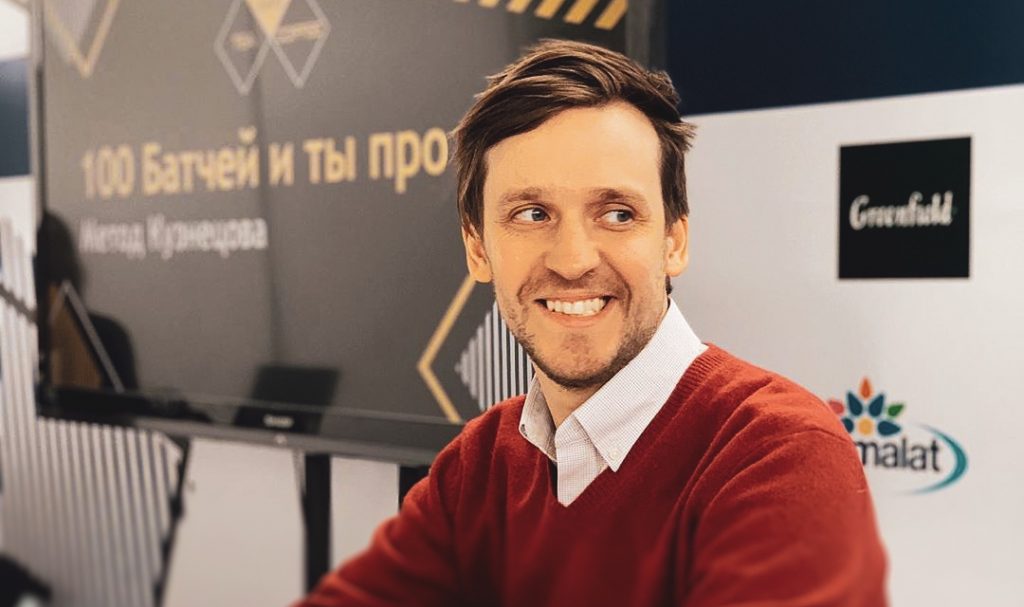 "I competed 30 times since 2011-2012, that was my very first Classic Barista Championship," Arsenij recalled. "I got 47th place in that first competition and that was unbelievably fantastic."
In true classic Russian can-do attitude and hard work, Arsenij remembered turning up at the barista centre, asking for some tips, and observed how the baristas were preparing for the
competition. With little information to prepare ahead of time for competitions, Arsenij needed to know the bare minimum requirements that he needed to be able to compete. That was his main focus. "I didn't even read the rules!" Arsenij laughed. "All I wanted to know was what I needed to make for the competition and it was 4 espressos, and 4 cappucinos." Competitions that Arsenij has had under his belt features the Russian Championships, Brewers Cup, Cup tasting, latte art, and Arsenij even tried his hand at Turkish Coffee competitions. Little did he know that being on the stage would help him further in his next coffee venture – that of coffee roasting.
In 2013, Arsenij opened his coffee roasting facility and things really kicked off. 30 competitions' worth of experience helped launch his coffee roasting career as he knew what baristas wanted in their coffee beans, along with the quality of coffee beans that was expected and desired for good coffee. Hungering for more knowledge and competition to sharpen his skills, he started competing in the local coffee roasting championships.
For his first competition, luck was on Arsenij's side. "I remember calling my friend, Alex, on the phone, and asking him what temperature to drop the coffee beans in." Out of 10 competitors, Arsenij placed 2nd, which was incredible for him. Inspired and fueled by his latest placing, he dedicated an entire year for his second competiton…but ranked 9th out of 10.
"For me, it was a really bad situation…I felt really sad. But I just said to myself, "Arsenij, you need to prepare better for the next competition." That preparation involved him writing on a piece of blank paper 10 things that he must learn to improve his coffee roasting skills.
"100 batches – after 100 batches, you will be a professional coffee roaster."
That remains Arsenij's mantra and learning theory.
Arsenij explains. "So if you want to learn about a certain type of coffee, you need to do 10 steps. For each step, you need to make 10 batches. All together, you will have made 100 batches. For example, you need to figure out the right drop temperature for the coffee beans. Make 10 batches. And then pick out the best batch. Move on to the next step. Whether it is time, time profile, whatever, take the time to do 10 batches for each step. This will form the basis for your preparation."
"I needed to learn about roasting and this personal theory of mine helped me learn so much about coffee. I always pick the hardest type of coffee beans to roast and improve on its taste. Like my last crop, it was a Brazilian coffee bean and I worked so hard to make sure that I can make it taste good."
For such a passionate person as Arsenij, his life is solely focused around coffee. Starting his day at 6 am, he would wake up and start roasting beans immediately for the first two hours. Even to this day, he continues to wake up at 6 am to get straight into his coffee business. When asked about romantic relationships, Arsenij laughs, "Yeah…it's a bit hard to have a girlfriend as I have to work on my preparation. I'm not as good as Miki Suzuki! I have to work very hard to improve my skills!"
All this hard work and perseverance led, of course, to Arsenij being crowned the World Coffee Roasting Champion in 2019. "It was like walking on a cloud. I would wake up in the morning and my first thought is, "I'm the world coffee roasting champion. Wow!" Even though Russia is fairly young in the coffee industry, Arsenij credits the fact that Russia has 6 coffee roasting champions due to Russian's passion and hard work ethic. 6 am wake up alarms, missing out on romantic relationships, continuing to teach and consult with coffee shops, along with international collaborations just goes to show that even for a World Coffee Roasting Champion, when the sun rises on a new day, Arsenij still goes to work and perfects his craft at roasting coffee beans.
After 15 years, has Arsenij ever thought of a life outside of coffee? "Ah, I just had a conversation with my colleague last week," he grins. "I said, Sasha, roasting coffee is boring, no?" But Arsenij has been working hard behind the scenes and roasting coffee is just the tip of the iceberg in terms of what he has in mind for the future of the coffee industry in Russia.
He has recently launched his own personal brand of coffee, called Gravitas. "It's a simple coffee, using 100% African beans like Ethiopia and Kenya, for regular people who love coffee and want to start their day with a good cup." He continues to look after a few coffee shops in Russia, and provides a consulting service to coffee shops who seek his expertise. He looks forward to continuing to collaborate internationally with other coffee roasters and companies, as well as working with coffee producers, and potentially a coffee roasting school.
Any advice for new coffee roasters? "Just work hard," Arsenij emphasises.
"If you just want a prize, then I guess someone can give you a prize. But that's not the way I work. Even after winning both the Russian coffee roasting championship and the World Coffee Roasting Championship, the answer is simple. Put in the work. Hard work will always pay off."
Article by Paul Wong
From the beginning, we set out to create a platform meant to have a global social impact that can help to transform the professional image of your average barista while also improving their social value and offer them support in maximizing their contribution to the coffee industry. We empower coffee people behind the cup and give them more voice.
Buy a T-shirt, and help a barista. We donate our profit to help baristas in need.