"Coffee is life, coffee is love, my happiness, everyday"
Andrea Ley is a truly inspiring woman and today we'd like to share her story with you, so you can be inspired too. Originally from Guadalajara, Mexico, Andrea moved to Texas in 2010 and used to work as a software engineer for an IT department. In her own words:
"Coffee was always my best part of the day at my old job. It was like my best friend for the eight years I worked as a software engineer".
As an enthusiast, she attended coffee courses and barista throwdowns but she also realised coffee shops had a unique vibe that made her want to visit them for hours. This was when a platonic dream was created. She realised she fits in well and thought maybe one day she could work in a coffee shop.
This dream didn't seem very realistic to her at the time so it took something else to make her take a leap of faith: café de olla. This is Mexico's signature coffee and whenever Andrea got homesick and thought of her family and her grandma she would make a café de olla and feel like she was close to them. 
She quickly realised she couldn't find this coffee drink in Texas but more than that she noticed that Mexico wasn't a popular coffee bean origin in the U.S. either. That's when she saw a business opportunity and the chance to do something she really loved. Her dream started becoming realistic and soon she decided a coffee truck would be the perfect way to do it. 
"A spark ignited in my heart. I felt very motivated and was thinking about my plan every day."
Andrea discovered the SCA soon after that and started educating herself through barista, brewing and latte art courses. Meanwhile, she launched a Kickstarter campaign to raise money for her coffee truck, but unfortunately, the campaign was a failure. 
However, she didn't give up, she saved money and travelled around Mexico to find out more about coffee farms and form direct relationships with producers. Her goal was to be a coffee platform in Texas for Mexican beans and to combine Mexican tradition with quality Mexican speciality coffee.
In order to introduce Mexican coffee tradition to Texas, Andrea has incorporated three signature drinks in her menu: café de olla, coffee infused with mezcal and cold brew de olla. As she explains "café de olla is coffee mixed with spices such as cinnamon, anise, clove, orange peel and piloncillo as a sweetener."
As for mezcal infused café de olla, it's a non-alcoholic infused coffee beverage and Andrea explains it's common to drink coffee with mezcal in the south of Mexico, so she decided to introduce it in her menu as an option getting the smoky flavor of the infusion. 
Andrea also makes her own natural piloncillo syrup to ensure the best result in the cup, integrating the spices. Also, she started making cold brew de olla with the same flavor of the spices, so it's really smooth and enjoyable, she said.
Like she expected, her customers are now discovering Mexican coffee from different regions and the traditions as well through her truck. The most common reaction is surprising, as most people are used to coffee that's flavoured with syrups such as caramel, vanilla and hazelnut. The spices and the piloncillo syrup bring a new flavour to the table and her customers are responding well to it. 
Many ask her if it's easy to make at home and as she explains it's actually easy because all you need to do is mix everything in a pot. However, most people find this time consuming so Andrea came up with another innovative idea. She and her team started integrating the spices with the coffee beans. 
Now her customers can just buy the ground coffee ready to brew for a perfect café de olla or as she refers to it: "a hug in a cup". She explains: "We mix Mexican coffee beans together with the spices and then grind them to bring out their flavour in the cup". Her suggestion is to drink it as filter coffee and not as espresso but that also depends on what the customer wants, she says.
Her coffee truck gives her the chance to be mobile, so she attends a lot of events like festivals. However, she also has two usual spots in Texas, one downtown and in the northwestern part. She understands that people are creatures of habit so she has decided to only stick to one spot within 2021.
We are sure that if we were her regular customers as well, we would love café de olla. It's also very admirable that despite all her success, Andrea doesn't get comfortable and she is developing new products like the pocket pour-over café de olla. The best is yet to come, she said.
"Working in coffee is like the best part of my day so basically it is all the time every day. This satisfaction I get makes me feel motivated and inspired to create more. I found fulfilment in what I do and I am very happy that people are choosing my coffee. My to bring a piece of Mexico to the U.S. that people would love and I am blessed to say I have achieved it."
We feel like Andrea has managed to build a coffee bridge between Mexico and the U.S. just by deciding to follow her dream. So we asked for her advice to any barista that is thinking of opening a café: "You have to believe it's possible. It won't be easy but if you have it in your mind and heart you can do it. There are resources to support your idea. The only thing that stops you is fear. Don't let fear get in the way of your dreams.
We wish Andrea only the best for her and her coffee truck and hope to visit her one day soon and drink café de olla together.
Other stories you may like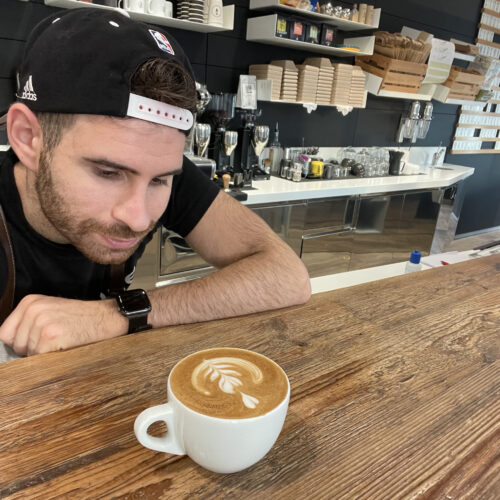 Luca Romito
This coffee story is about Luca Romito, a 29-year-old barista from a small town at the foot of the Euganean Hills in Veneto, Italy, who works as a barista in…