"I like exploring new brewing recipes, and playing with champion recipes. It helps me improve my own brewing skills. Thank you, this is really easy and interesting."

Ronnie R.

Coffee lover
"I love coffee and brew at least 4 times a day. I used to use mobile app to track my own brewing method, but I started trying others'. I love coffee."

Eve Crawford

Graphic designer
"Nothing is more time consumign than finding a great breiwng recipe that you can use for a long time, I do have them on my phone but I still prefer the old traditional printing technology, simple, convenient, and those are from the world champions, man."

Jack Graham

Home barista
"Since the pandemic, I started making coffee at home. Sowly I fell in love with specialty coffee, a whole new world with so much fun and excitement. I always want to improve my coffee taste through different tips, tools, and beans. Love it."

Zak Reid

Software Engineer
"It is aways the simple that produce the marvelous.

Amelia Barr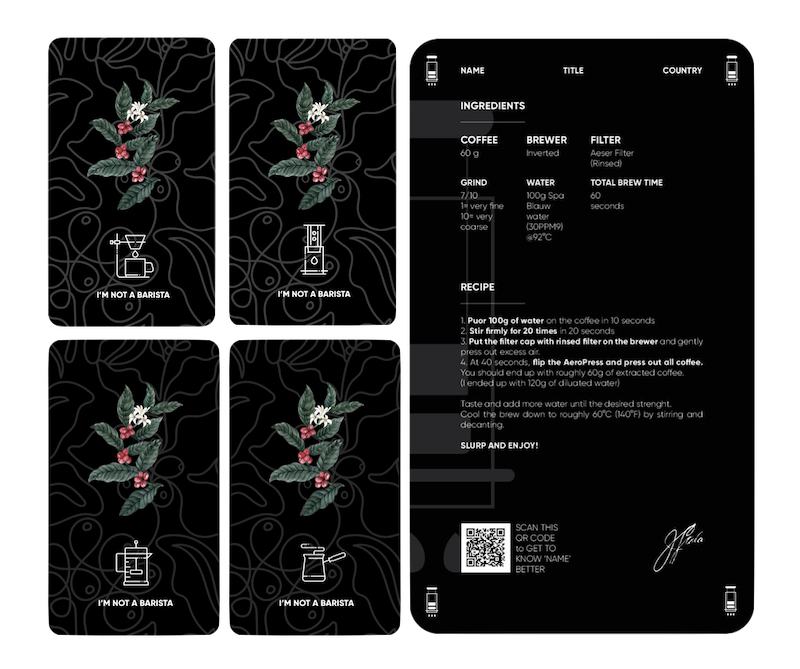 #brewathome with the best recipes from the global coffee community.
We design this great brewing guide to make your home brewing fun and convenient.
Our digital brewing guide helps coffee fans share great recipes and learn from others. Coffee connects.
"I'm so happy to be a part of this meaningful project. I released that no matter how we are, if you want, you can always make an impact to this world, and together, and we can make a big change. Sharing a brewing recipe can help baristas in need, this is such a wonderful idea. Join us and be part of this movement."

Smayah Uwajeneza

SCA Educator
Share your recipe & help a barista
Doing good is simpler than you think.