We are excited to announce an opportunity for you to collaborate with us on our newest charity project launching on Kickstarter in 2021. As an extension of our #brewathome campaign we are launching our brewing guide, an innovative way for home brewers, baristas, and businesses to collaborate.
About us
Mutiple Brewing methods
Learn and master the most popular brewing methods AeroPress, Pourover, French Press, & Moka
Pick and brew
No more endless scrolling to find the recipe, pick and brew.
People behind the Cards
54 recipes represent 54 baristas, meet the barista behind the cards, let's get connected.
Help your customers
Help your customers brew the best coffee with your product
Do Good Together
Together we can work simultaneously to both generate from and give back to the community.
Grow and shine
Catch this great opportunity to raise your brand image and CSR
Corporate Social Responsibility
Give Back to The Community
This new project aims to provide one simple method to maximise the experience of brewing at home by compiling recipes from a range of baristas to be shared with coffee lovers around the world. Our design team have created 54 tarot sized cards, each containing a unique recipe, information on the contributor and even a scannable code leading to their Instagram account. 
Be part of this charity project, together we can reduce endless scrolling on our screens and instead support an easy and fast way to access a variation of special brewing recipes. All profits made from this project will be donated back into our overall mission to empower the baristas behind the cup. Together we can work simultaneously to both generate from and give back to the community, building connections by giving a new platform to you, the baristas.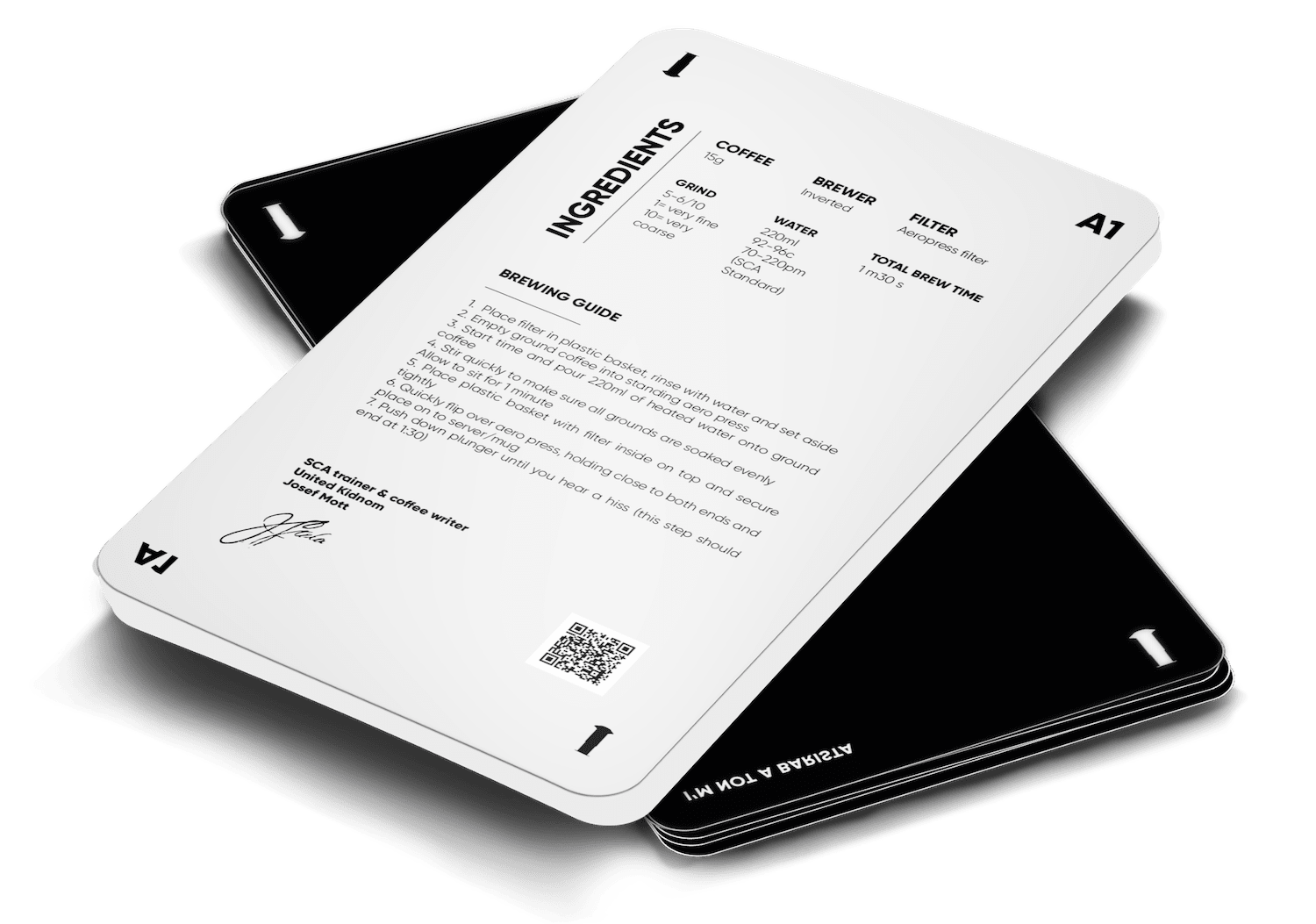 Your product icon on back side
Your product icon on the packaging
Your product/brand name on the front side
Why you should get invovled?
Be part of the movement
This is a great opportunity for businesses to increase your Corporate Social Responsibility by advocating for a community-conscious project. We kindly ask for a small donation to support our project, and in return, we offer a great chance to raise your brand reputation. To thank you for your gift, your products will be featured on the Kickstarter project, products, and all promotion channels. 
How to get invovled?
Work together
Be part of the movement, get involved now. Please fill out our Collaboration Form below. As this is a fast paced project, we ask that if you are interested, you complete this by the end of 2020.
Transform your customers into your brand ambassadors
We hope that you are as excited about this project as we are. As always, we hope to connect coffee enthusiasts from across the world and empower baristas and home brewers alike. Considering we are still in the preparation stage, we may not cover all project info here. If you have any questions, please contact us through email [email protected] or Instagram.